This year, there will be plenty of Black Friday & Cyber Monday Drone deals to look for! The drone market is literally "taking off" and drones are easier to get than ever. Never before have we seen so many good quadcopters in different price categories, so once the Black Friday & Cyber Monday deals become live – there will be plenty to choose from.
Be sure to bookmark this page and come back to it regularly, as we plan to update it constantly as we approach Black Friday & Cyber Monday 2018 and new deals pop up.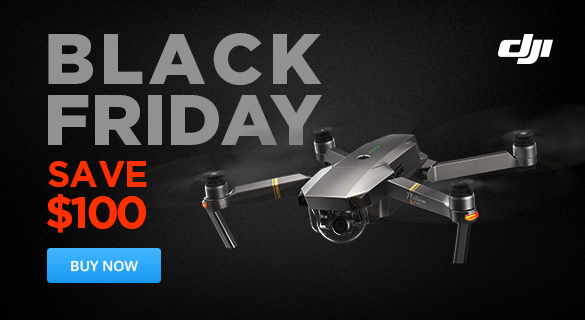 DJI, the leading drone company in the world has taken Black Friday very seriously, by announcing lots of deals for Black Friday 2018, with discounts up to $100 OFF.
You can take a look at the table below for more details:
Promotion Pricing Details
For a more in-depth look at the cheaper best drones you can get this Black Friday & Cyber Monday, please read below:
This time, I've taken a different approach and haven't categorised the deals by price, but by their quality and I've also taken into consideration if there's a good discount on them – as we all know, holidays are the best time to get a good deal on a drone as gift for our loved ones, so I though this would make more sense for this post.
However, if you're interested in drone deals within a specific price point, please feel free to head over to my price-categorised posts:
Check out the best drones under $100, under $200, under $300 and under $1000 and the best drones with camera.
Interested to know more about the drones I've listed as best Black Friday & Cyber Monday deals? Read on!
Black Friday & Cyber Monday Drone Deals:
Last update on 2020-03-20 / Affiliate links / Images from Amazon Product Advertising API
The АА108 from Altair Aerial is an ambitious drone that aims to please the crowds with its sophisticated design, great set of features and top-notch customer service. Altair Aerial is a USA-based company that strives to fix the errors of the Chinese manufacturers of cheaper quadcopters which often offer half-translated manuals and pretty much non-existent customer support.
And this is where this drone shines – you can't help but think Altair has put themselves into their consumers's shoes – you get an extra battery for a total flight time of just under 20 minutes, a cardboard cutout that fits directly onto the remote controller, showing you all of its functions and features and of course gives you plenty of features to play with:
A 720p camera with FPV feed, controls that easy to use by virtually anyone due to 3 different flying modes, a one-touch takeoff/landing button, headless mode and altitude hold, custom route mapping, low battery and out of range alarms and more.
You can read my full review of the Altair Aerial AA108 here.
Last update on 2020-03-19 / Affiliate links / Images from Amazon Product Advertising API
The АА818 Plus from Altair Aerial is a great drone for beginners which comes packed with features at a quite reasonable price.
It is actually a brand-new drone that has just been released, but it will immediately strike you with its black and blue colour scheme and great build quality. It's relatively cheap, coming up at under $200. The plastic guards around each of the propellers actually make the drone look bulkier than it really is, but that's not necessarily a bad thing – on the contrary, since it's made for beginners, this will actually help you in the long run, as the guards will keep your drone safe from obstacles or crashes, protecting the arms and the propellers.
The drone comes with a 120 degree Wide-angle 720P rubber damper HD camera, which ensures your photos or videos won't be blurry or shaky (or at least it will significantly lower the blurriness or shakiness of your shots). One huge advantage of having such camera is the ability to control the drone via FPV (first-person-view) from the screen of your smartphone or via VR goggles, which you should buy separately. You can control the drone with the FlyingSee App by UDI RC, which is available both for Android and iOS devices.
Last but not least, the drone comes equipped with a battery that can last up to 15 minutes in the air, and to top it all off, Altair gives you a bonus battery in the box, so your total flight time comes in at roughly half an hour in the air. Pretty sweet!
You can read my full review of the Altair Aerial AA818 here.
Last update on 2020-03-19 / Affiliate links / Images from Amazon Product Advertising API
The Potensic F181DH is an all-in-one package that comes at a very reasonable price – just under $200.
The first thing you'll notice is that the drone comes in a very nice and sturdy carrying case, which is perfect if you plan to bring your drone with you when you're traveling.
When you unbox the aircraft, you'll see that the remote controller has a built-in LCD screen for FPV flying. By using the built-in 2MP camera, you can monitor the movement of the quadcopter in real time with just a bit of lag.
However, what's really good about this quadcopter is that it has the 1 button takeoff and landing – and it does it very well. In addition, you get altitude hold, which is one of this aircraft's best features in my opinion, as it keeps the drone levelled and stable in the air, despite its small weight.
When you unbox the aircraft you'll probably be happy to see that it comes with 3 extra batteries (4 in total), and as each battery gives you around 10 minutes in the air, it means you'll be flying for about 40 minutes with all of them. Just make sure to not overheat the motors, which may result in a crash. Give the drone a few minutes to cool down between each flight and you should be all good.
Last update on 2019-09-10 / Affiliate links / Images from Amazon Product Advertising API
The Force1 F100 Ghost drone is a great-looking piece of tech. It comes in a black & white colour combo (white body, black accents) and it definitely hits the visual mark. What I really appreciate about this aircraft is that it comes with a 1080p camera, something which most of the other drones from this price point don't have – we're kinda used to the 720p cameras on all of the latest cheaper quadcopters, so the Full-HD camera here is a breath of fresh air. On top of that, the camera is detachable which means you can use it as a handheld camera on the ground, if you're into filming. It captures both photos and video and the quality is actually much better than the 720p cameras we're seeing everywhere.
Also, as the camera is detachable, the mount is made to be compatible with GoPro cameras, so if you have one laying around – throw it on the mount and see how the quality changes instantly. That's a great move. However, please be aware that depending on the GoPro camera you're using, it could be sliding inside the mount a bit, so maybe you'll have to figure out a way to obturate the mount itself so you're camera stays firmly.
The flight time of the F100 is around 15 minutes, but as it seems it has become the norm – Force1 have put an extra battery in the package for a total flight time of 30 minutes.
A big pro for this drone is its flight range – it can hold up to 500 meters away without losing signal – that's as much as the DJI Spark can go, which is impressive.
So other than the GoPro mount issue I mentioned a couple of lines ago, the drone is a solid purchase and will be a good fit for anyone looking for a great beginner drone.
Last update on 2019-09-10 / Affiliate links / Images from Amazon Product Advertising API
Next on the list we have the Goolsky MJX B2W Bugs and let me tell you, this is one good-looking drone. With an all-black finish and those scary-looking eyes, the drone will put fear into any bird or insect it meets during its flight. Jokes aside, Goolsky is actually known for their stickers which they put inside their packaging, and I have to say it's a small, but great touch.
Now that we have the visual part out of the way, let me tell you about what this drone is capable of. The Goolsky MJX B2W Bugs can fly FPV-style up to 500 meters away, which is quite impressive. But it get's even better – if you don't fly FPV and rely solely on your transmitter, you can fly this quadcopter up to 1000 meters away! Yep, that's right – 1km away. Not sure how you'll be able to control it from such distance if you don't see it and you don't have FPV signal, but hey – that's truly impressive and there's no way not to mention this feature.
Next we have the regular features which we're used to seeing in other quadcopters from this price point – there's one key return (i want to see this activated when the drone is 1000 meters away!), altitude hold, LED lights, FPV and last but not least, GPS.
The flight time goes into the territory of the bigger guys – 18 minutes from each charge.
The drone looks small, but it's actually quite solid, coming up at 334 grams without the battery. So wind speed shouldn't be a problem for the Goolsky MJX B2W Bugs, even when you fly it further away.
Last update on 2020-03-20 / Affiliate links / Images from Amazon Product Advertising API
And lastly on the list we have the Holy Stone HS400, a very popular model by Holy Stone which comes with variety of features at a good price.
So first of all, I want to talk about the camera, which unfortunately is 720p and not Full HD, but the pro of this camera is that it could be adjusted – on most of the other drones you can simply turn on the camera and fly and shoot with it, but here you can adjust the angle as you go, which would make for more professional-looking shots, even though they will be in 720p. I guess we can't have everything, especially at this price point. Anyway, you can adjust the camera angle between 0° and 85°. It can basically take pictures looking completely straight in front or completely down to the ground. The way to adjust the angle is to hold the adjust button on the transmitter until the camera starts to look up and down.
The rest of the things which you'll find present on the  Holy Stone HS400 are Altitude Hold, One-key return, Virtual-reality headset compatibility and FPV, which could be activated by downloading an app on your smartphone. Although FPV is a great feature, I don't actually recommend it to you in this particular case, as the video transmission is a bit laggy and it will probably interfere with your flying more than it will help.
And there you have it guys, those are some of the best Black Friday & Cyber Monday deals I could find for you until this moment.
Please be aware that I'll be constantly updating this article as we get more and more awesome deals, so make sure you bookmark this page and return to it often, as there will be tons more drones coming on this page.